Introduction
When developing for the future it is hardly surprising that Seychelles' tourism industry should look to its Blue Economy to chart its way forward. Surrounded by 1.4 s km of Exclusive Economic Zone, the Seychelles Islands were created with the all-enveloping ocean in mind and since the early days of settlement in the mid-eighteenth century, this small island state has been moulded, and continues to be moulded, by its relationship with the surrounding waters.
 
Strategic overview
Seychelles' tourism strategy is to further grow maritime tourism activities and their contribution to the economy by further developing and promoting the sailing & cruising and diving & fishing sectors. This will generally help to grow tourism figures and also assist in making Seychelles an attractive port of call for lucrative super yachts and cruise ships via substantial improvements in the current infrastructure of port facilities and ancillary services and by encouraging private sector participation in the construction of marinas on other islands.
Situation analysis
Since the birth of tourism in the early 70's, the great pull of the islands has always been the winning combination of a spectacular sun, sea & sand vacation combined with a near-perfect climate and a unique island-style way of life that allows travellers to 'get away from it all.' These ingredients are, in a nutshell, the very foundation of a Seychelles holiday which we must expand, embellish and build upon to achieve a prosperous and sustainable Blue Economy. Seychelles needs to be making greater use of the economic potential of its Blue Economy, not only in terms of growing the existing base sustainably but also by constantly improving and upgrading it so that it consistently meets the expectations of today's discerning traveller.
Piracy is a major issue affecting the economic performance and effectiveness of all sectors of Seychelles' Blue Economy and a major brake on the islands' future prosperity. Despite the growth of Seychelles' yacht fleet, it has been estimated that between 2008 and 2010, the aggregate business turnover of this activity dropped by some 22% in current Euro terms. In 2009 alone, the sector experienced a 27% drop in business turnover. The yachting & cruising sector employs a minimum of 100 Seychellois and consumes goods & services such as fuel, food, landing & docking fees, maintenance and repair services, harbor fees, souvenirs and land-based tourism services such as accommodation, taxis, car hire, restaurants and diving. Nonetheless, despite the piracy phenomenon evidence shows that the number of yachts operating in Seychelles continued to increase from 117 in 2010 to 129 in 2011. Accommodation afloat constitutes a substantial amount of the country's bed capacity (12%) as many tourists spend their holiday, or part of their holiday in Seychelles aboard a boat. It is estimated that yachting activities attract about 15% of visitor arrivals in Seychelles.
Strategic objectives
Seychelles will create a suite of events designed to grow Seychelles' maritime activities and their contribution to the economy, such as the Durban to Seychelles Yacht Race planned for 2015. These types of events are designed not only to offer a superior sailing experience to participants but also raise Seychelles' international profile as a sailing destination par excellence, with positive benefits to the national economy achieved through the staging of side-events.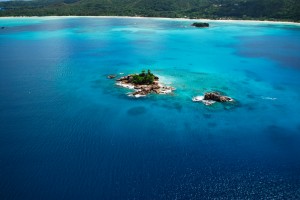 Seychelles will make concerted overtures to cruise ship companies to include the islands in their itineraries which will, in turn, strengthen the accessibility of the Vanilla Islands, the umbrella organisation formed for the marketing of the islands of the western Indian Ocean: Seychelles, La Reunion, Madagascar, Mayotte and Comoros, with a positive knock-on effect for all member economies. Seychelles will continue to improve the quality of its tourism products by increasing Seychellois involvement, commitment and shareholding in the industry. The range of holiday experiences and also the number of islands accessible to visitors will be expanded to strengthen Seychelles' competitiveness in the already congested tourism arena. This will ensure visitors are receiving value for money and that the tourism product more than meets their expectations,
Seychelles' diving industry already benefits from a reputation for offering excellent diving on both coral and granite reefs via both land-based and live aboard dive operators. Diving in Seychelles will continue to be promoted by the individual dive centres and Seychelles at international Dive Fairs, focusing on advertising the destination as pristine and offering relaxed diving schedules, uncrowded dive boats with a personal Creole touch and strong conservation credentials, in stark contrast to the congestion of other dive destinations. A further boost to the local dive industry will continue to be given by realigning the objectives of SUBIOS with the goals of the Blue Economy, again with positive, trickle-down effects and also by educating the local population about the importance of Seychelles' marine resources and the need to protect them.A long-time favoured destination for fishing enthusiast, Seychelles' sports fishing industry is burgeoning. Seychelles will continue to help promote this sector which includes big-game and fly-fishing and which has already recently appeared on the front page of one of the world's top fishing magazines 'Bizbee's World' for offering some of the very best fishing on the planet. One of the strategies to be employed to further boost this sector is the organization of larger fishing tournaments with lucrative prizes to attract rich foreign competitors and so provide further endorsement and strengthen the upward cycle. Sustainability will be provided by adherence to strict tag & release regulations to protect fish stocks.
In order to promote excellence in people development and decent work within the tourism maritime sector, Seychelles will grow the capabilities and influence of the Maritime Training Centre which will be dedicated to meet the needs and skill requirements of the industry and also inject an element of Creole colour and personality into its operations.
Sustainability is the watch word across all sectors of Seychelles Blue Economy. As the islands continue to harvest its benefits sagaciously while educating the population at large as to the successful exploitation of Blue Economy resources, sustainability will remain a priority. This will be achieved by integrating sustainability in the daily operations of all areas in the maritime sector and by making sure that all boat and yacht operators sensitize their clients about the Seychelles environment and the need to preserve and protect the natural assets of the islands. Also, by ensuring that appropriate and effective policies and legislation are in place and in force to regulate the safe and efficient performance of this sector.
The Seychelles 115 islands, scattered across a vast Exclusive Economic Zone of and the grand diversity they offer are among the nation's greatest assets. However, there is a need to make greater use of these slumbering treasures by addressing the issues of geographic and seasonal spread and by tackling the scourge of piracy in the region through increased coordination between and effectiveness of the efforts of the international community.
Conclusion:
Who has not heard of the legendary beauty of Seychelles, its silver sands and warm, dappled sapphire waters? In a world that is becoming grimier by the day, the iconic image of having the opportunity to relax on a Seychelles beach, beneath swaying palms and swimming in its crystal waters continues to be a primary driver of its tourism. And yet, in the highly competitive arena of global tourism where every country on earth is busy selling its product, sun, sea & sand is not enough.
We live at a time when the travel industry is looking for more than just the basics. Travellers are becoming more sophisticated, more discerning and with greater expectations than simply to languish on a beach during their vacation. Time and again, research shows that today's travellers are seeking experiences that allow them to get beneath the skin of the particular country they are visiting and take indelible memories of that experience home with them.
In the case of Seychelles, it only has to look at its surrounding waters to provide the answer because that ocean is rich in possibilities, many of which have still not been exploited.
You might also like