Sensual Seychelles haslong been dubbed 'the islands of love'. Home to the unique Vallée de Mai purported by many to be the site of the original Garden of Eden, it is little wonder that lovers are inspired to take their vows and wed in this gentle and romantic atmosphere.
 
Marriage and/or honeymoon packages are offered by several leading travel agencies ensuring that your wedding day or honeymoon can be as blissfully romantic and unique as you in your wildest dreams can conjure, and that the memories of those special days will become forever emblazoned in your hearts.
 
Whether in Seychelles for a wedding or honeymoon, make a rendezvous with destiny and set your own stage for the most romantic days of your life beneath swaying palms alongside warm azure waters fringed by the silver-soft sands of hidden beaches!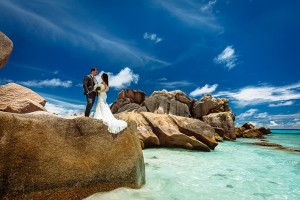 A selection of hotels, both large and small as well as a choice of discreet island hideaways for your honeymoon will intensify your intimacy as you lazily soak up your first glorious days and nights together. Sip exotic tropical cocktails against the backdrop of crimson sunsets. Visit the island of La Digue where time stands still and bicycles and the ox-cart hold sway on the pathways to dream beaches such as Anse Source D'Argent. 
 
Quietly stroll in the Vallée de Mai where the legendary Coco-de-mer nut grows high on ancient palms. Dine tête à tête with your feet in the sand on uncrowded beaches. Try your hand at dancing the moutia, whose sensuous rhythms beckon from the flicker of a beach fire beneath a lover's moon.
 Come and savour the ultimate in tropical romance! Be swept off your feet by the breathtaking beauty of the world's most stunning islands that offer you diversity, a carefree life style and the services of dedicated professionals whose attention to detail will leave you with the freedom to enjoy the romantic experience of a lifetime
You might also like