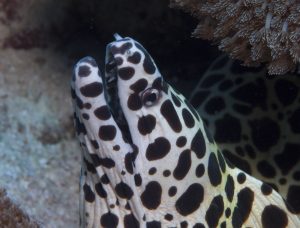 There are many kinds of aquarium dotted across the planet in which to enjoy different experiences of the underwater world. Some of these host impressive displays and spectacular species which are indeed fascinating to behold, while others adopt a more subtle approach and one that can lead to the learning experience of a lifetime.
The newly opened Eden Aquarium on Mahé Island's Eden Island is one of the latter and although only relatively small in size in comparison to, for example, the giant aquarium you find in Dubai, has been cunningly and lovingly conceived to provide a display of Seychelles' marine creatures in which quality, not quantity or size, is king.
The brain behind this aquarium is Mr. Charles Savy, a Seychellois who has been diving the islands' waters since 1977
Charles, who also runs a successful, live aboard dive charter operation for discerning divers, is nothing less than a human library when it comes to his favourite subject, and his expertise concerning Seychelles' underwater world is instantly apparent. But it is clearly his passion and philosophy that is behind the drive to understand, appreciate and share
"After so many years of observation I just started to put some small pieces of this gigantic puzzle together and at the same time discover that each piece of the puzzle is a puzzle within itself. It's all about habitat. When we know the conditions that a particular animal requires for it to feed and reproduce, unless it has already been fished out, there is a good chance the animal will be there!"
"Understanding life on our planet is vital to understanding and sustaining our own. We are all from the same source."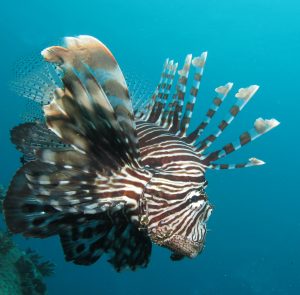 It is this rich vein of knowledge that Charles has invested in his aquarium, a task that took him and his two assistants some three years to complete. On most days during that time Charles could be found busy undertaking a diverse number of tasks from the simplest and most mundane to the highly specialised. As a small aquarium, there was no massive budget to bring designers, engineers, and aquarium specialists from every corner of the globe as is the case with many big aquarium projects. So Charles and his small team tackled everything including design and layout, construction and decoration using the widest selection of materials."Much of what we did we had to learn and getting the materials we needed was one of the biggest challenges" Charles says, "as just one example, the search for a suitable background for the mangrove tank went on for a very long time without success. I was trying to find a 6m length of 2mm thick turquoise coloured ABS (the same plastic that phones, kitchen utensils and aircraft interiors as well as many other things are made off) from California to Taiwan and it seemed the only way was to order a minimum of five hundred kg when we only needed ten. Eventually, we decided to paint it, but I had to create the colour myself in a solvent-less food grade epoxy, mixing colorants usually used for colouring paints for floors of food factories."
He continues, "amongst other tasks, learning to bond acrylic by polymerisation was a necessary and challenging task, while the devotion necessary to polish the bonds to create the final product required the patience of a saint."
Much more than meets the eye has gone into the building of this home from home for some truly amazing species of marine life.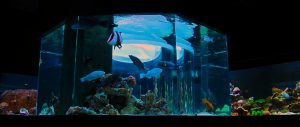 "My close involvement with every stage of the construction of the aquarium has provided me with an intimate connection to it and to its various life forms, most of which I have personally brought in from different parts of the archipelago," explains Charles, "and this is a huge advantage when it comes to the maintenance and expansion of the project because I am not only familiar with every nut, bolt and process of the installation, but also with the peculiarities of every single one of its residents''.
This process has resulted in a hand-picked selection of marine life such as would be difficult to achieve in a larger, less personal enterprise and this is the very theme which runs through the displays at Eden Aquarium to a point where, listening to Charles describing them, they might very well be inter-connected as the separate components of one giant, single organism.
"But we did not choose all of the displays – some chose us," Charles adds. "Take for example the Saragassum Frogfish, a fish that neither I nor anyone else I know has ever seen in the water locally. It fell on the boat like mana from heaven. Just as we were bringing fish from the depths, this one fell on the deck, from a piece of seaweed that had caught on one of the buckets."
The special knowledge of the origin and habitat of each and every animal in the aquarium makes for the unique level of detail that is the hallmark of the Eden Aquarium and for the rich learning experience it provides to its visitors looking to be wowed by something more than just size and volume.
In the same way that investigating beneath a simple rock in a tide pool can reveal a world every bit as intricate, detailed and fascinating as the more obvious one that lies alongside a forest path, the Eden Aquarium holds many surprises in store for the marine investigator who wants to dig that little bit deeper and have an opportunity to join the dots between the miracle of life in the deep.
For the person who knows nothing about the sea, Eden Aquarium is simply a delightful discovery of more than just fish. It is an interwoven tapestry of art, science and nature cared for with dedication, passion and flair.
You might also like